Exterior window films are some of the best performing films, hands down. Manufacturers have solved the longevity issues of the past, making exterior window films an even more desirable solution for daylight and temperature control applications.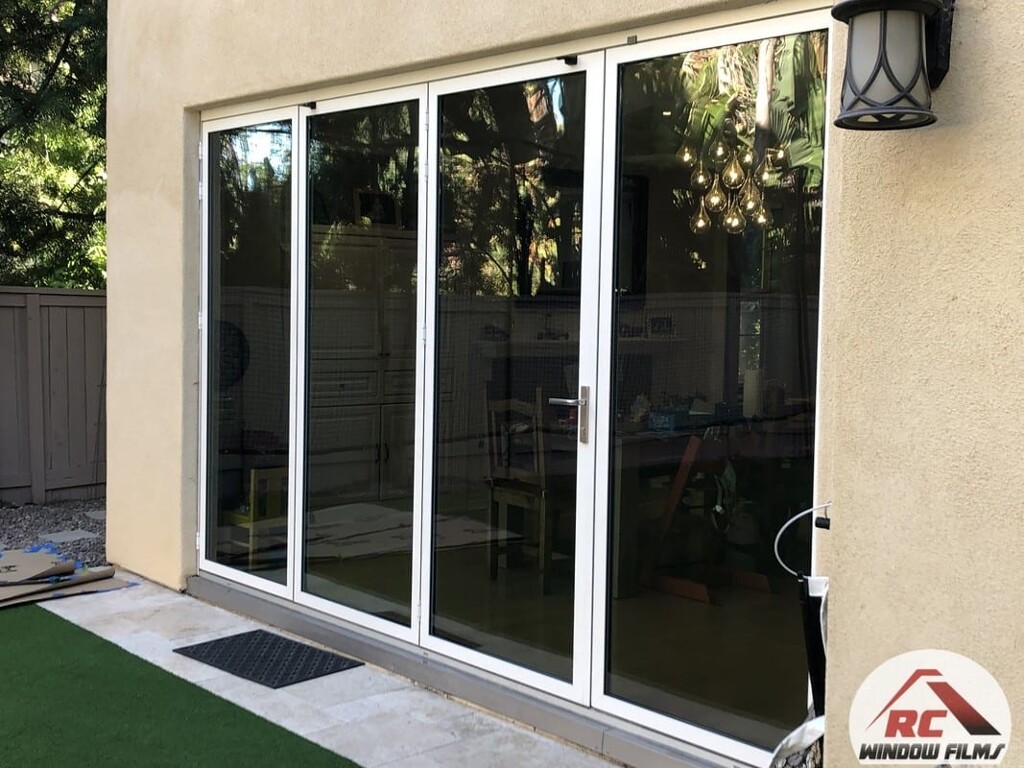 Can you put window film on the outside?
Yes, you can put films on the outside surface of the glass. Keep in mind that window films are generally installed on the inside to protect them from the elements. In the past, exterior window films were overlooked because of the perception of poor durability and performance. For this reason, manufacturers have taken steps to improve the overall performance, esthetics, and longevity of exterior window films. The industry's leading manufacturers have made considerable improvements to meet customer demands for these products. Despite their durability, interior window films are not always ideal, and at times their application isn't feasible.
Types of Exterior Window Films
Exterior Decorative Films

When it comes to Graphics, they are usually installed on the outside of the glass. Exterior graphic window films usually have a 5-7 year durability. These films are designed to be temporary. Office buildings traditionally use graphics, decorative window films, and commercial spaces are ideal for businesses looking to enhance their Street view presence and marketing.

Security Films

Security film is a film designed to enhance security and mitigate glass breakage. This film comes in light control options and a clear undetectable version. All versions of the film block UVB rays and UV light.

Solar window films

Solar control window films are for daytime privacy, heat reduction, and energy savings. These films are outside installed films, and they can be applied to single pane, laminated panels, and dual pane windows. This type of window film has a limited warranty and life expectancy of seven to 12 years.
Benefits:

Allow Natural Light – Exterior window films allow natural light while reducing heat.
Reduce energy costs
Provide sun protection by reducing the sun's UV rays.
Block a significant about of Infrared light.
Exterior films are available in low reflectivity and high reflectivity options.
Exterior window film on a commercial building
Outside weatherable window films technology
Exterior window film is applied on the outside glass; this surface is known as surface 1. The main innovation of exterior window film is the hard coat that's designed to withstand the elements. The primary way that exterior window film works is to reflect inferred light (heat) before ever reaching the glass surface.
Exterior window films are available in several variations. To meet customer expectations, the film can be optically transparent or reflective. It's possible to apply the film selectively; this comes in handy when trying to keep the current esthetics of a building or home and improve glass performance.
Dual-pane windows and outside window films
Tinting a dual-pane window is perfectly safe if you follow the proper procedure. Exterior films are often a great solution when trying to improve the thermal rejection properties of dual-pane windows. As you might know, dual-pane windows are usually coated with a Low-E coating.
Low-E coatings help to increase the insulation properties of glass. The Low-E layer helps lower the effectiveness of a material surface to emit energy as thermal radiation; in other words, it blocks heat.
How are exterior window films made?
Exterior window films start with a base of acrylic adhesive dyed and thinned to hold multiple layers of polyester plastic. The acrylic adhesive serves as a base for additives such as UV inhibitors, dyes, and even precious metals, depending on the purpose. A plastic roll of film is then used; the type of plastic depends on the film's purpose.
The plastic film is unwound over rollers into a coating machine. At the same time, the acrylic adhesive is applied evenly through the plastic surface. The coated film is then dried and cured. Next, a hard coat, mounting adhesive, and liner are applied. A worker checks the finished product by testing it on a glass surface.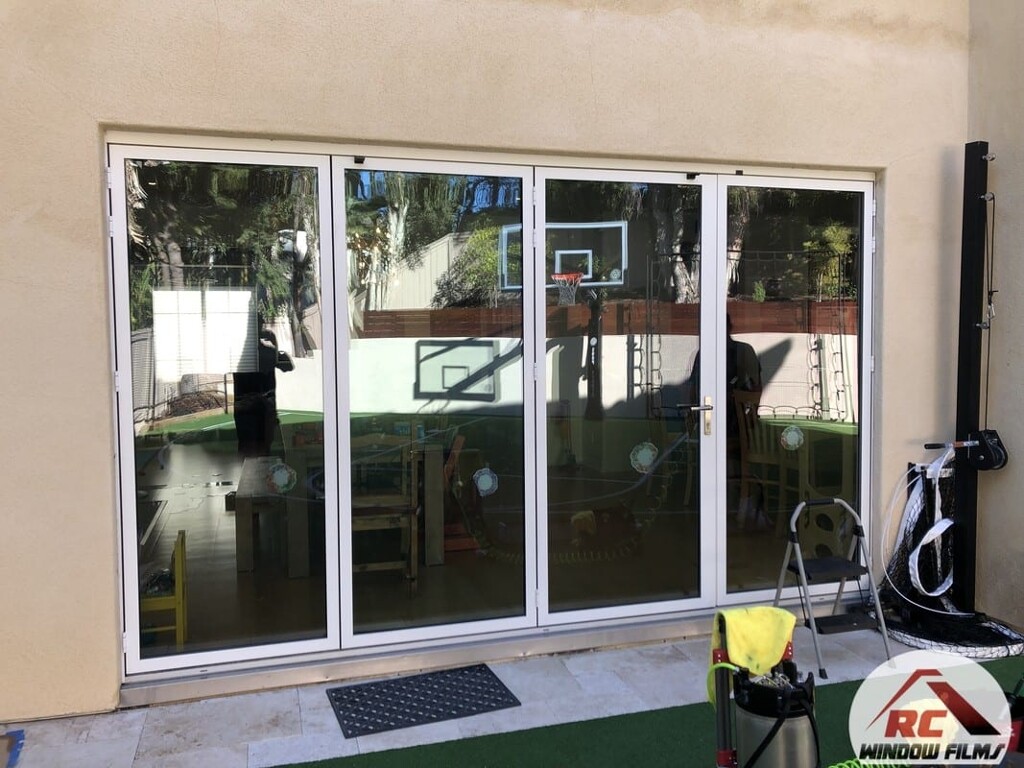 The 4 advantages of exterior window films
1. Accessibility – Exterior portions of glass are easy to access, making outside films ideal in some situations.
2. Longevity – Advanced materials, superior manufacturing, fantastic warranties, and well-trained installation technicians have made exterior window films a viable solution when considering window film options.
3. Performance – Exterior window films are some of the best performing films compared to interior applied films. Solving the longevity issues of the past has made outside weatherable window films an even more desirable solution.
4. Aesthetics – Having the ability to improve the performance and aesthetics of glass has never been more attainable. If you're considering building re-imaging, exterior window films are a great option!
When to use the window film
Sometimes interior films are not a realistic option in terms of accessibility. For example, there may be heavy machinery or furniture that is not accessible, and you can not reach the windows. Outside applied film is an ideal choice in these cases.
An untempered glass that is laminated creates a hazardous situation where interior installation is not the best solution. A laminated glass unit that hasn't been heat-treated can crack, making exterior films a much safer choice for architectural application. Exterior films don't absorb as much heat, thus making them much safer for laminated glass.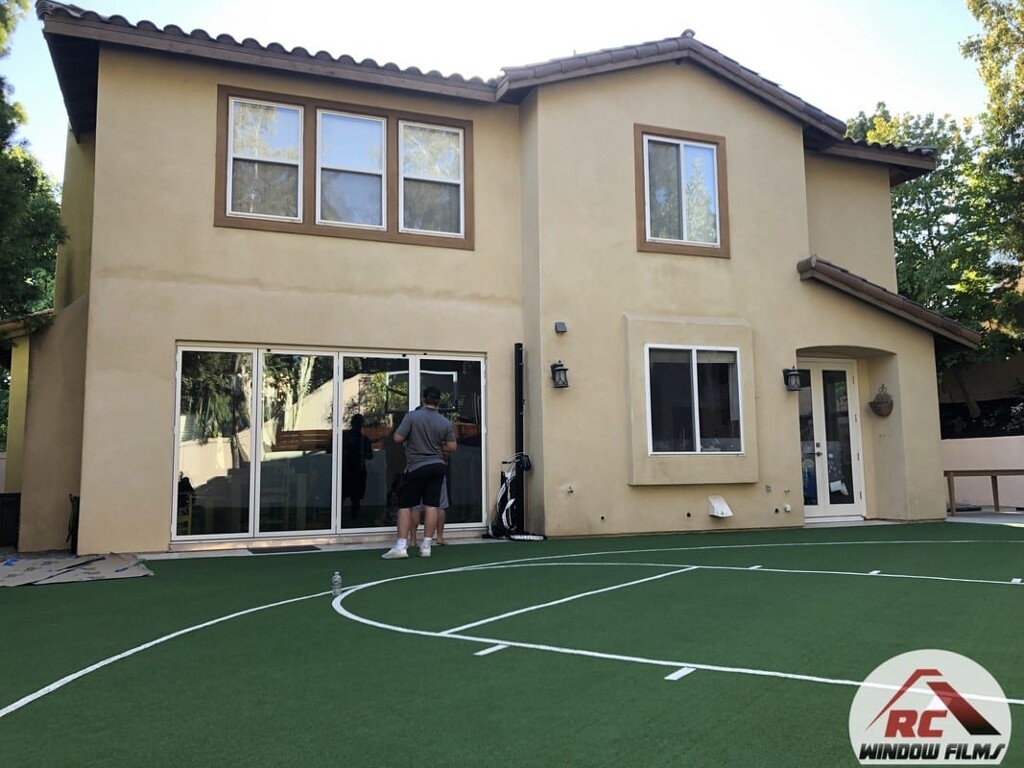 Advantages of window outer film
In addition to the ease of installation, external films are usually better than the internal solar specifications. Because light and heat touch the outer surface first, the glass is less affected.
Types of outer window film
External window film options have about the same shades and colors to choose from as interior applied films. The most common are natural, silver, and bronze tones. There are also many exterior security films, including the popular anti-graffiti film.
Security films: These types of films can be installed both on the interior of a building or home and come in various thicknesses and shades. These films are designed to mitigate break-ins and improve occupant and passerby safety by holding the glass together, mitigating flying debris hitting passerby's or occupants.
Anti-Graffiti – Anti-graffiti films are designed to be a sacrificial layer of protection applied on glass exterior in high traffic glass areas. They are intended to reduce glass replacement and glass repair costs and are the first layer customer and vandals encounter.

These films are ideal in commercial bathrooms where mirrors are damaged, train stations, public buildings, office buildings, and storefronts subject to graffiti, glass etching, and damage.
How the exterior window film is different
The outer window film, in most cases, looks and feels the same as the inner window film. It is applied precisely the same way (with soap and aqueous solutions), although the windows may require some additional cleaning since they are on the outside.
The most significant difference is that the outer film of the window has a more scratch-resistant coating. This helps you resist wind, rain, and other factors exposed to.
Therefore, it is always better to use an external film outside the window than an internal film. You may have to change it otherwise. The outer film usually lasts 5-7 years before you can see any damage.
Why Choose Exterior tint for your home or office building?
In conclusion, Outside Weatherable window films provide impressive and effective heat suppression, glare control, 99% UV protection and help save money by reducing the load on overworked HVAC systems. They also have a robust scratch-resistant coating that makes them resistant to inevitable wear and tear caused by nature.
Exterior window films are durable and efficient, designed to overcome the challenges of transforming buildings without access to interior surfaces. These films are also safe for most types of glass, so there are fewer compatibility issues, unlike interior applied films.
Architects, designers, building managers, and owners – thank you for choosing this solution for your next "problem" project.